Global Entrepreneurship Week 2012
Advance medverkar som officiellt partnerföretag under Global Entrepreneurship Week för att på olika sätt stödja entreprenörskap. Missa inte vårt erbjudande nedan.
Unique GEW Offer – Get Access to Advance Toolbox!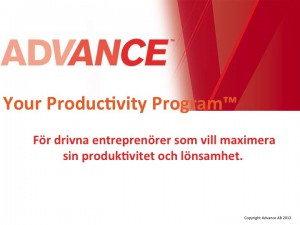 2012-11-12 - 2012-11-18
In order to support entreprenership during GEW, Advance opens up the Advance Toolbox and offers free access to one of the tools during the whole week. The tool is web based and easy to access.
Tool: "Stop Procrastination – Get into Action!" The 30 minute video aims to give you:
The most common reasons for procrastination
Advance 3-step model to get things done – faster, easier and with more fun
Among the persons accessing the video, 3 winners of 1 individual laser-coaching session to help implement the tool will be identified.
To access this offer, please send an e-mail to: amlindell@advancesweden.se, with "GEW Offer" written in the subject line. The winners of the laser-coaching will be contacted via e-mail during November.
Advance supports Idéjakten 2012
2012-11-15
Advance will be part of the jury in selecting the winner in the business idea competition Idéjakten 2012, arranged by HjärnaHjärtaCash. 10-15 ideas will be presented in front of the jury and a winner will be selected. For further information, please visit http://www.idejakten.se